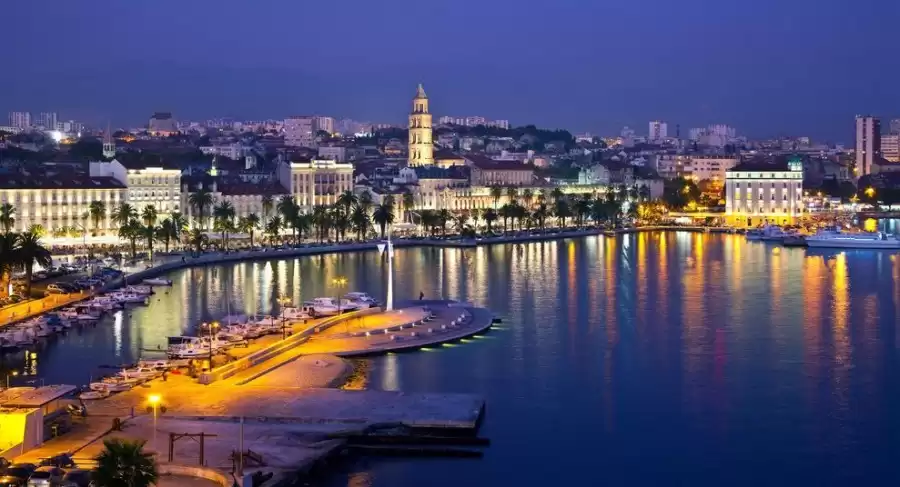 Split regione
Split sailing region is one of the most popular holiday choices for many yachtsmen who decide to spend their cruising holidays and charter in Croatia. From unforgettable coastal towns to breathtaking islands, Split sailing area has so many cruising destinations, each worth visiting in their own right.
The center of this beautiful and diversified sailing region, however, is the town and port of Split. This ancient town has everything one can ask for while on holiday; beautiful beaches, an eclectic choice of restaurants, stunning architecture, excellent entertainment choices and of course, a few well-equipped marinas to choose from. Once you stroll along the city's main promenade and narrow streets of the famous Diocletian's Palace, you will realize that Split can rival many Mediterranean beauties, becoming a playground for all those seeking fun, relaxation and good time.
27 kilometers west of Split is the town of Trogir, another ancient coastal town packed with awe-inspiring architecture and laid-back Mediterranean charm which earned it a nickname "Little Venice".
Trogir has a recognizable promenade and a harbor with a lot of gulets, sailing boats, motor yachts and catamarans bobbing up and down, creating an idyllic scene during summer evenings.
Sailing from Trogir is an excellent holiday choice because you get to explore the near-by islands of Mali Drvenik and Veliki Drvenik, the latter being home to Krknjaši, one of the most beautiful beaches on the Adriatic coast.
Sailing further south will take you to the town of Omiš, a beautiful city nestled at a foot of Dinara Mountain. The dramatic landscape of this lovely coastal town is best appreciated from the water which is why Omiš is filled with gulets, sailing yachts, catamarans and motor boats, especially in high-season. Leisure activities in Omiš are bountiful; from sightseeing, kayaking and rafting in the river Cetina to day-trips to an idyllic picnic resort, Radmanove Mlinice.
Sailing past Omiš will take you to Makarska Riviera; a lovely blend of pine-fringed beaches and clear turquoise sea against the dramatic backdrop of Biokovo Mountain. Makarska Riviera consists of many beautiful sailing destinations such as Brela, Baška Voda, Makarska, Tučepi, Podgora and Živogošće.
If you prefer island-hopping instead, each of these coastal towns is an excellent starting point for island-cruising. For example, the closest island to Split is Šolta, an island covered in vineyards, olive and pine trees. There are many beaches and bays on Šolta but the island's most popular sailing destination is Maslinica, situated on the western part of the island. Once merely a small fishermen's village, today Maslinica is the nautical centre of the island with a charming marina, intact nature, excellent choice of leisure activities and a unique gastronomic offer.
Once in Central Dalmatia, it's a pity not to visit the island of Brač with its famous landmark, the Golden Horn beach. Party goers and trend-setters choose the island of Hvar as their favourite sailing destination in Croatia due to its perennial status of a must-see holiday spot on the Adriatic.
The furthest island of central Dalmatia is the island of Vis, known for its stunning raw nature, unhurried pace and an ambience of Mediterranean authenticity.
The close-by island of Biševo is another popular sailing destination due to its beautiful Blue Cave that attracts many visitors every year. Highly diversified, the natural beauty of central Dalmatia sailing region simply knows no bounds and yacht charter is a perfect choice when it comes to exploring its natural delights.