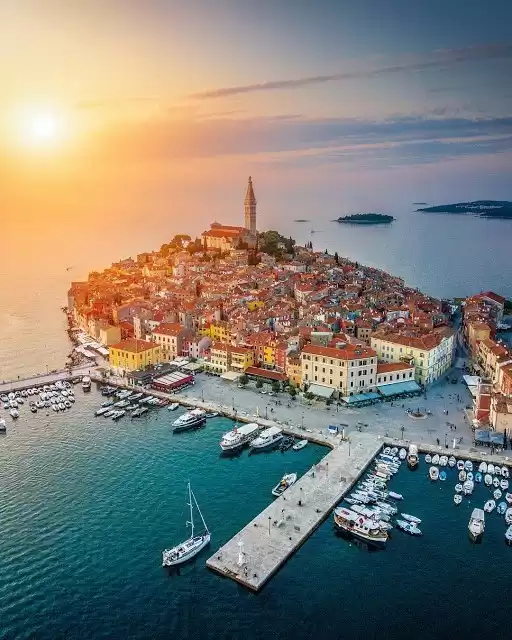 Istria
A charming heart-shaped peninsula, Istria is one of Croatia's most amazing sailing regions and holiday destinations. Reminiscent of Italian landscape, this verdant oasis offers its own version of la dolce vita with its mesmerizing medieval hill towns, world-famous truffles, splendid beaches, beautiful coastline, Roman ruins, excellent wine and first-class dining.
The largest town of this region is Pula, a lively town with many great restaurants, an ACI marina, and a rich cultural and historical heritage. Pula's most distinguishable emblem is most certainly its Roman Amphitheatre, dominating the harbor area. Dating back to the 1st and 2nd century, it's original purpose was to serve as a venue for gladiators' fights and today it's the 6th largest preserved amphitheater in the world. Pula teems with historic buildings and monuments such as the Temple of Augustus, Church and Monastery of St Francis and many Venetian and Austro-Hungarian fortresses which are the city's main attractions. The ACI Marina in Pula has about 200 berths for yachts, catamarans and motor boats up to 25 meters so it's a wonderful opportunity to start your sailing holiday right from this beautiful harbor.
A few kilometers north of Pula is a true gem for all sailing enthusiasts, the Brijuni National Park. Consisting of 14 islands altogether, Brijuni National Park used to be a summer residence of the former Yugoslavian president, Marshal Tito. The only islands open to public today are Mali and Veli Brijun, the two main islands. Here you can see the remains of a Byzantine fortress dating back to the 2nd century, a Roman villa rustica, the Church of St Germana, Tito's museum, a Botanical garden and safari and ethno-park. The island of Veli Brijun also has an 18-holed nature golf course and you can see more than 200 dinosaur footprints. The islands have dense and lush vegetation contrasted with white beaches and crystal clear sea, perfect for spending a lazy summer day. If you decide to include Brijuni in your sailing itinerary, please bear in mind that in order to navigate its waters, you will need a permission of the National Park Administration and the temporary mooring is allowed in designated bays only.
Chartering a boat from Istria has an additional bonus, you can easily sail around islands in the near-by Kvarner region, another beautiful sailing area on the Adriatic.
Once you have explored the almost never-ending string of islands to your heart's content, you can head further west. All of western coast of Istria abounds in seaside resorts and stunning little towns that you can easily include in your sailing itinerary.
One of such picture-perfect town is most definitely Rovinj. A small medieval town with eclectic and interesting architecture, Rovinj also has a small marina so it can be a lovely starting point for your upcoming cruise.
Marina in Vrsar, another beautiful coastal town in Istria, can be a lovely mooring stop during your cruise. Once a fortified fishing village, Vrsar has many interesting archeological sites whereas the Limski Channel between Vrsar and Rovinj is a popular marine reserve due to its limestone caves.
One of the most popular holiday destinations in Istria is certainly the town of Poreč. It boasts a beautiful 6-kilometers long seafront and a marina located in the southern part of the bay. Poreč offers just the right amount of nightlife, family activities, adrenaline-pumping activities and beautiful beaches. Poreč is also home to Euphrasian Basilica which is a UNESCO Heritage Site.
Located half way between Poreč and Umag, Novigrad is another mesmerizing little town on the western coast of Istria. Novigrad is well-known for its monthly gastronomic evenings organized from April to October so mooring here is a great opportunity to try some top-notch seafood specialties. While here, you can also enjoy sport fishing whereas several interesting diving sites can be found just a few nautical miles off the coast.
Located on the far western tip of Istrian peninsula, Umag is an interesting holiday destination. Preserved town walls dating back to the Roman ages, stunning beaches and a well-known marina with a Blue Flag award make Umag a desirable sailing spot. If you happen to sail here in July, you can enjoy the region's most prestigious tennis tournament whereas the lovebirds will fall in love with the love story connected to the oldest lighthouse on the entire Adriatic coast. People often can't decide what the most beautiful part of Istria actually is; the stunning cragged coastline with breath-taking beaches and picturesque islets or the rolling hills of its verdant mainland. Either way, we are sure of one thing, once you visit Istria, you are bound to return for more.