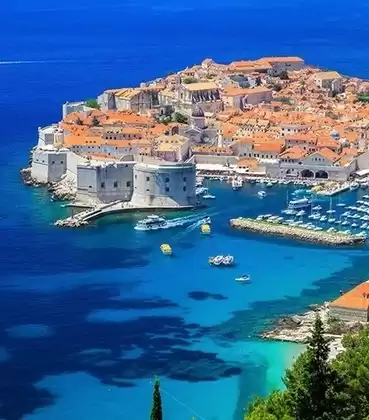 Dubrovnik regione
Croatia sailing holidays are an indispensable part of the yacht charter offer around the world. Among Croatia's many desirable cruising destinations, the southern region of Dalmatia takes a special place. Made up of a myriad of mesmerizing islands and towns of nearly iconic status, Dubrovnik sailing region has plenty to offer to its visitors. The area's main attraction is of course, the town of Dubrovnik. Striking architecture set against the backdrop of lush pines and enveloped in the warmth of long summer days, this southern beauty is a symbol of Mediterranean flair and medieval charm combined. Year after year Dubrovnik remains high on the world's must-see destinations- list, attracting yachtsmen, tourists and quite recently film-makers as well.
Yacht charter in Dubrovnik is an excellent opportunity to explore the city and to enjoy its surroundings at your own pace. Boat rental in Dubrovnik ranges from sailing boats and catamarans to motor boats, gulets and mini cruisers, offering a wide array of yacht rental options to choose from.
Dubrovnik sailing is also a perfect way of exploring the near-by Elafiti Islands, an archipelago of 3 main islands and 11 smaller islets. The largest island Šipan attracts many visitors but just as lovely are also the islands of Lopud and Koločep. Sailing further south will take you to a picturesque place of Cavtat, one of the most popular holiday destinations of southern Croatia. If you are looking for some peace amidst spectacular nature, there's no better sailing destination than the island of Mljet. Pomena and Polače are two picturesque ports on the island where you can moor, the latter being very close to the national park (situated on the western part of the island).
This sailing region boasts another verdant oasis, the island of Lastovo. There are 46 islets surrounding Lastovo, making it a true sailing haven. The vicinity of the island of Korčula is irresistible to many yachtsmen who visit the park nature Lastovo and renting a boat makes all the difference while exploring this lovely sailing paradise.
Sailing further to the east, you will discover the Pelješac peninsula. Almost 62 kilometers long, it provides plenty restaurants, beaches and quaint fishing ports. Other popular holiday destinations are Slano, 37 kilometers north of Dubrovnik and Ston, commonly known as the "town of salt". Cruising south of Croatia brings you the intense sense of sea and Mediterranean, whose magic and impact one can only fully appreciate when experienced from the water, enjoying riveting sights wherever you look.