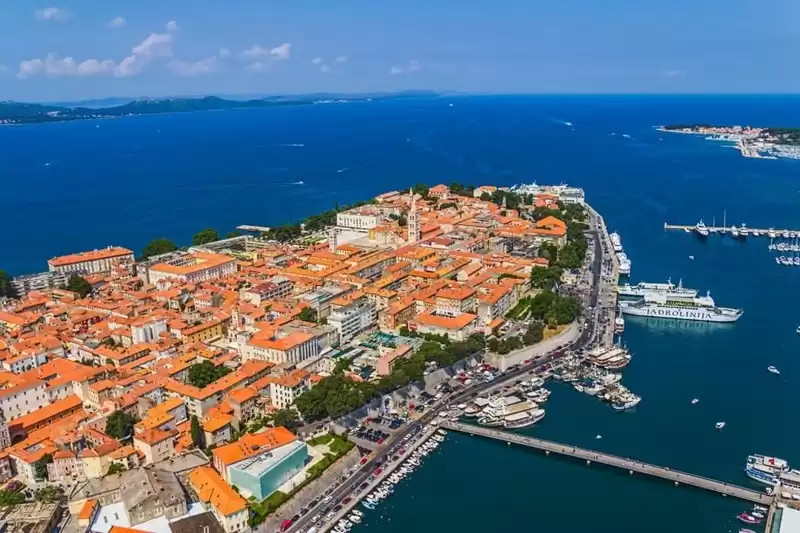 Zadar regija
Zadar sailing region is a particularly interesting cruising area due to its indented coast and many beautiful islands. This sailing region boasts a high number of marinas too, such as the ones in Biograd, Zadar, Ugljan, Sukošan and many more.
Zadar yacht charter is an ideal choice for visiting not only this splendid Mediterranean town but also its stunning surroundings. As the second-largest city in Dalmatia, the town of Zadar certainly has its fair share of unique attractions like the Sea Organ or Greetings to the Sun, which have become the town's landmarks. Venetian fortresses, pre_Romanesque churches, fun and interesting museums, picturesque cafes and buzzing market stalls are simply too good a reason not to include Zadar as a part of your sailing adventure. Located just 10 kilometers from Zadar, the small town of Sukošan is another sailing hotspot. There's a popular marina with 1.200 berths and a private beach within the marina, which makes it one-of-a-kind on the Adriatic.
Sailing further southeast takes you to the port of Biograd, a small town known for its lovely beaches and marinas. Equally alluring is Zadar archipelago which consists of many islands, coves and secluded beaches, perfect for all day-cruising.
Right opposite Zadar is the island of Ugljan which is connected to the island of Pašman by bridge. Ugljan is known as the "Green Island" due to its dense underbrush, pine forest, olive trees, vineyards and fig trees.
However, one of the area's most famous holiday and sailing destinations is the island of Dugi Otok, a Mediterranean vision in green and terracotta. The northern tip of the island is home to a true gem of the Adriatic coast, a breath-taking Sakarun beach. It's a sandy bay where translucent sea hugs the pine-fringed shore, perfect for even toddlers to splash around in.
The south of the island, however, has colossal appeal as well. Untamed Telašćica Nature Park is a scattering of picture-perfect islets and a well-known sailing route for many sailors and yachtsmen. Better yet, it's a year-round holiday spot due to its 2 500 sunny hours per year. The islets have a diverse flora and fauna, rich underwater world and various archaeological findings. Sailing toward northern Zadar archipelago takes you to the island of Molat, simply perfect for exploring by boat or a yacht. The island is merely 25 square kilometres in size but the island fully compensates for its rather small size by a number of adrenaline-pumping activities such as kayaking, taking dolphin photos or cycling.
Another island of distinct contrast and peculiar beauty is the island of Pag. Its barren landscape certainly doesn't evoke typical images of a Mediterranean island but is one rare holiday destinations that offers dual cultures and holiday experiences all in one place. The north of the island is a world-famous party destination whereas the laid-back and tranquil vibe of the southern part of the island is its perfect holiday counterpart. Summer sees the Adriatic coast at its dreamiest and there's no better place to spend your next sailing holiday than cruising around Zadar archipelago, beloved by sun seekers and sailing enthusiasts alike.